21 May 2018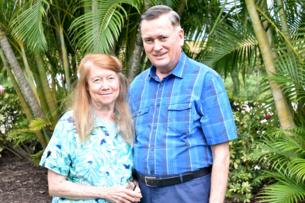 Longboat Key, FL - On May 18, 2018 Larry and Kathy Goodman returned to unit #236 at Silver Sands Gulf Beach Resort and celebrated their golden anniversary, just as they did 50 year ago. Their story is one we only read about in fairytales - meeting at the University of South Florida in journalism class. Soon after marrying, and then honeymooning on Longboat Key, Larry was stationed in Okinawa; serving in the United States Air Force and living abroad for over six years.
After observing the couples love of seafood, the Operations Manager sent the Goodman's to a partner restaurant for a special dinner, compliments of RVA, to toast their golden anniversary.
In 1968, Silver Sands Gulf Beach Resort, then known at Silver Sands Apartments, was a small, eight-unit building located directly on the Gulf of Mexico. Over the years Silver Sands grew in size; however unit #236 always remained the Goodman's 'special apartment and sacred honeymoon site.' Living just a short drive away in Temple Terrace, the Goodman's returned to Silver Sands about a dozen times over the past 50 years,  celebrating milestone anniversaries.
Their love for the island, nearby eateries and beaches are apparent from the stories they share. Feeling a bit nostalgic, Larry remembers unpacking their portable record player on the first day of their honeymoon in 1968, listening to their favorite 'beach music'. Including Bossa nova, Henry Mancini and Johnny Mathis. As they unload their car from their many trips to the island, the couple listens to the famous Ed Ames song and are reminded, "In only a moment, we both will be old we won't even notice the world turning cold. And so, in these moments with sunlight above. My cup runneth over with love."
Larry and Kathy share stories of a mostly uninhabited Longboat Key, with wide beaches and beautiful flora and fauna. Visiting the island for 50 years, the Goodman's have seen lots of development, endured storms, (which they didn't mind - they were on their honeymoon!) and beach replenishments. A couple of things have remained the same over the years: their love for each other and their memories of Silver Sands Apartments and the beautiful Longboat Key beaches.
**Picture compliments of The Longboat Key Observer